"How do I come up with new ideas?" is probably the question I get asked the most and I think that is a valid question, but the answers might surprise you.  First, I am not a full time potter, but am in HR and if you have ever worked for a large company you pretty much know that HR is not quite shunned, but no one really wants to be seen going into their office. Now I am a friendly, outgoing person so for the most part no one would be surprised to see someone stroll into my office to chat, but there is always that lingering question in the back of their mind. "Why is she or he going to speak with HR?" Needless to say, I'm not winning any popularity contests for the most visited person in my building. Then I started taking pottery in 2017 with two other women from my office, Robin and Lori. They have since stopped taking classes but are still interested in what I make so I am under instructions to bring my final pieces into the office before they can go home.  
All of this leads me to telling you that my office at work is full of pottery. It is on the counter, above the cabinets and it rotates in and out as it comes from the kiln to my office and then back to my home to be photographed and then it might move back to the office if I am out of room at home. I'd love to say that it is beautifully styled and arranged, but it is not. I just put pieces here and there, wherever they will fit and not get broken. It was embarrassing, but I sucked it up and took a picture of the top of some file cabinets that face my door so you can actually see what anyone who passes my office sees. See, no organization whatsoever.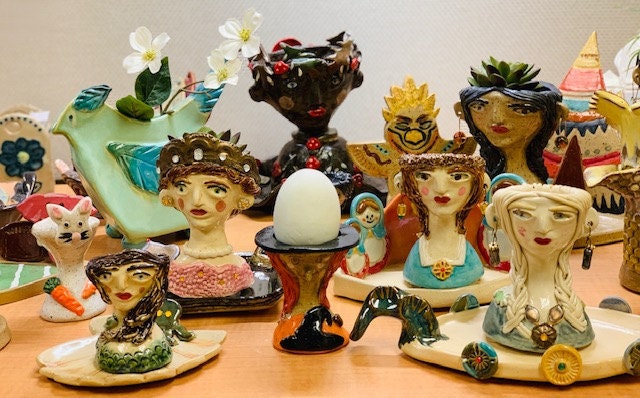 The interesting thing however, is that having my work all over my office has caused an increase in my interaction with people. Co-workers who I really didn't engage with stop as they walk by to see what is new. Other people just come by to tell me what I should make next and people that I would have said had no interest in pottery have actually commissioned work from me. Shoot, some pieces get bought right when I bring them in and never make it home to be photographed.  
A lot of my co-workers ideas are good ones too and I have used some of them. Others I am mulling over to see if there is a way it can be done structurally and some I'll probably never use, but I appreciate all of the input because it shows me people are interested in what I am doing. 
My friends and family also let me know what they think I should make. My sister, Deborah has really good ideas and I have used some of them. One of my favorite pieces, a black crow, came about because my brother asked me to make one for him. My mother wants a Jamie Frazier from Outlander planter head and that is on the list, just for her!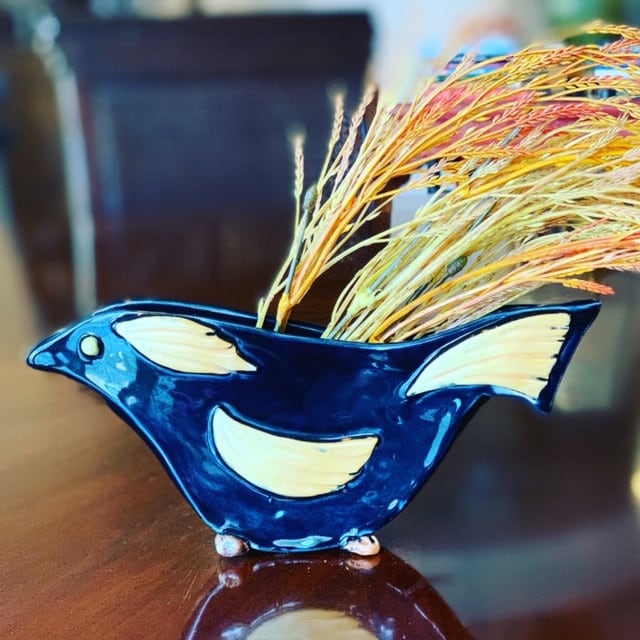 Finally, we come to my ideas which come from an interesting mix of things. I love history and to travel so lots of my planters come from places I have been or just different countries and cultures that I find interesting. I love texture so lots of my plates and platters have different patterns on them. Sometimes it is a technical challenge that I am after. For example, I want to make snow covered mountains and add glitter to it for shimmer to see what it looks like. I might actually create the base first to see if I can get what is in my head to actually come alive and then go back and add a person to match. My Viking Lady was like that. I created the boat first to see if I could and then made the lady to match.  I own a Silhouette Cameo paper cutter that I never use, so I wanted to test if I could use it to cut multiples of an image and then put them wet onto the clay, glaze over them and then remove.  If it worked it should leave a relief of the image and it did, hence my bird tray.  Now I have another way to decorate my art.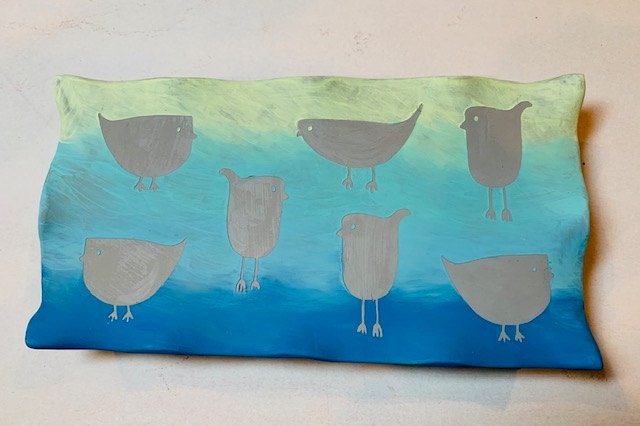 So my ideas come from all over the place, friends, co-workers, family and sometimes, just somethign technical i want to try. Keep them coming, everyone. I can't promise I'll make your idea but a variation of it might show up in one of my pieces.